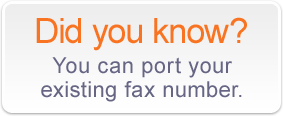 Included in your monthly plan:
100 outbound

1

and unlimited inbound fax pages
Free mVoice fax number
Fax from anywhere you can access you email account
Faxes are sent directly to your email account
No fax machine required; and
No line rental charges!
1Excess fax pages charged at 5 cents per page. Faxes to International destinations are not supported by this service.

There was an error submitting your question

How many people are in your business?

How many people work at your largest office?

Do you require advanced features?